Horse For Sale/Lease
Free Advertisement sponsored by Wonderful Sport Horses (408) 803-0888

Wonderful was ranked #1 young sire by German FN with dressage breed index of 156 in year 2000, 5 years after he was sold to Wonderful Sport Horses. This ranking was based on his offspring's competition records in Germany. His 8-year-old imported son Winwood has been winning at Intermediare-II in the US. Wonderful's reproducibility is truly proven. Do not miss the opportunity to own a horse that can be in the best of the German league!
2006 Foals | 2005 Foals | 2004 crop |2003 crop | 2002 and older | Mares | Breeders | WHAT YOU MISSED
*** on horses' names or picture thumnail to see pictures. ***

2008 Plans
In Utero, by Rubino Bellissimo out of Trinity-Lael (Riverman)
Trinity-Lael is a Holsteiner mare out of our mare Danube by Riverman. This extraordinary large-gaited movement and her feminine, balanced conformation have won her many local and national awards. She was a premium foal and site champion as a weanling at the AHHA keuring. As a yearling, she was the filly champion at the Cosequin/USDF Breeder's Championships for Region V with a score of 81.250 percent. Under Judge Hilda Gurney, Trinity also captured the reserve championship in the Arizona Dressage Association's Breeder's Choice class and the championship ribbon in the ADA Grand Champion class at the series finals in Scottsdale, Arizona.

In October of 2006, again Trinity-Lael was dubbed not only the AHHA approvals site champion but a premium mare select with 51 points, one of the top 12 mares in the U.S. The following week, we put her through the Oldenburg approvals. There, German judge Christian Schacht announced her scores totaling 110 to the crowd and stated that only two mares scored higher in the U.S. He said he had just come from Holstein, Germany, and thinks this mare is better than those he just judged in Holstein, Germany, quite an accolade for a small breeding farm here in the states As a three-year old, she has been started and is improving with each ride at training level dressage. Trinity-Lael possesses correct movement, athletic conformation, pizzazz, a quiet disposition, sensibility, and large "clockwork gaits," as Hilda Gurney described. See more details at: www.horsenriders.com

Trinity's qualities along with Rubino Belissimo's purport this 2007 foal to be a potential-plus athlete. $13,000 in Utero, $18,000 Weanling. Email breeder or call: 480.515.9235
In Utero, by Rubino Bellissimo out of Danube (LeSanto)
Danube out of Orthella by Othello Marlon by Lesanto was a premium foal born in 1989 and took the highest scoring foal at her AHHA keuring. As a four-year old, she was bonited and scored 46 points out of 50 as a premium mare, one of the top scores in the U.S. Since AHHA changed the scoring system, she would now be a premium mare select, the same as her daughter Trinity-Lael. This mare has the whole package—quiet disposition; willingness to please; quick to learn; large, steady gaits—won many three-day events in her younger days with dressage scores in the 70's, the ability to jump with no stops, and the forward, steady "go" on the cross country course. She now provides bomb-proof rides for the grandchildren.

When campaigned in 2004 with her son Remaliah and daughter Trinity-Lael for our breeding program, Danube earned the Cosequin/USDF Breeder's Championship for Yeld Mares Ages 4 and Older (15 years old at the time) as well as the Arizona Dressage Mature horse Championship and the ADA Reserve Grand Championship, second only to her own daughter Trinity-Lael. See more details at: www.horsenriders.com

This honest, fabulous mare produces champion foalsThis 2007 breeding with Rubino Belissimo should prove to be an incredible athlete for either professional or amateur rider. Trinity's qualities along with Rubino Belissimo's purport this 2007 foal to be a potential-plus athlete. $12,000 in Utero, $15,000 Weanling. Email breeder or call: 480.515.9235
2007 Foals
Wondriano, AHS colt by Wonderful out of EM Fountainhead by Fabriano
Incredibly handsome colt with modern conformation and lovely and elastic movements, who caused a stir in the audience at the inspection when he trotted out. The judges commented favorably on his lively, animated expression, his pretty head and neck, and the slope of his shoulder. He should finish 16.2-16.3 hands with great angles to his strong limbs. He has already behaved like a well-trained adult horse. His weaning went very well, shows no signs of separation anxiety or insecurity. He appears to be quite independent and self-confident without any tendency toward being herd bound. Unless he sells to a good home first, he will be gelded at around a year of age. Asking $13,500. Call Nancy Makowski at CPR Sporthorses: 505-425-9124 or 505-718-6129 (cell).
4 Fillies by Rubino Bellissimo for sale. They prove that Rubino is a STAMPING SIRE!
Rosetta, AHS filly by Rubino Bellissimo out of MS Aktiva by Archipel
A modern type with free shoulders and outstanding suspension and cadence. Extremely friendly and energetic. Asking $13,500. Call 650-996-5953.
Rubi Tuesday, GOV filly by Rubino Bellissimo out of SPS Laura Bella by Lauries Cruisador
(pictured with Rosetta - can you tell them apart? :-) An incredibly modern and uphill mover. Numerous World Class performers come from both sire and dam bloodlines. Asking $14,500 Call 650-996-5953.
Ruby Red SF, by Rubino Bellissimo out of Borhese by Beach Boy
This beautiful and large filly is more than we ever expected! She is very elegant, tall, naturally upright and elastic with tons of suspension. She has a wonderful personality and is easy to handle. With her bloodlines she should be a great dressage horse or jumper! Rubino Bellissimo rivals the best young dressage stallions in Germany and represents the epitome of a modern warmblood sporthorse. He is also now proven to produce modern and highly desirable riding horse type that will be suitable for both serious competitors and amateurs. In addition, his outstanding bloodlines will make his progeny valuable breeding prospects as well. Borghese is by the extremely popular Beach Boy (Lucky Boy v. Zues). Beach Boy was used extensively all over Europe and his offspring commanded record prices at the European Auctions. He is well known for producing top show jumpers with modern jumping ability. Borhese's dam, Anjella, has produced 5 approved stallion sons. $10,000 Contact Sheen Farm.
Ritz Poshe, by Rubino Bellissimo out of SPS Winala (Wolkenstein II X SPS Pinkus mare)
Ritz Poshe is a full sibling of Rinala (see picture right as a foal.) Rinala was born in 2003 and achieved 4th in the Mare class at the prestigious Devon Breed show in 2006. This filly is just as nice if not nicer! Superb topline, leggy and elegant. She is sweet adn gentle; will be a dream to ride and a great addition to any breeding program. Take a look at her video: youtube.com/dreamhillfarm Contact Dream Hill Farm 276-628-9090.
2006 Foals All sold out!
Rico, GOV colt by Rubino Bellissimo out of mare by Prinz Gaylord, Lehndorff, Furioso II
SOLD! Registered with German Oldenburg Verband; received Premium Award at his inspection at Fairwind Farm, home of Donnerschlag. Beautiful conformation, floating trot with great suspension. Full brother is owned by a professional dressage trainer in S. California. Owner is selling in order to raise fund to adopt a handicapped child. $12,000. Give a wonderful Christmas present to yourself or a loved one, and a special gift for a child in need at the same time. Click here to see the complete sales list. Contact Grace Sporthorses at 530-795-3405 or click here to email.
Gracie, 2006 Oldenburg, by Wonderful out of Grande, Weisswein (Duft)
Not For Sale at this time Iincredibly feminine and graceful. Orphaned and gently hand raised, and later adopted by a pinto mare. Very loving and affectionate. Extravagant mover. Many other outstanding offspring by Rubino Bellissimo, Wonderful, Rio Grande, and Waikiki offered by Grace Sporthorses - Owner is adopting one more child and has to sell some of her wonderful collection of horses. Mare lease also available. See many of their gets in one place. Call 530-795-3405 to arrange an appointment. Click here to see the complete sales list.
Weltido, AHS colt by Wonderful out of SPS Barcelona by Batido
SOLD! Champion colt at his inspection out of 17 entries among foals produced by frozen semen from Germany. Bred by San Diego Sport Horses. $12,000.

2007 half sibling by Rubino Bellissimo out of SPS Barcelona is also available for sale in utero for $12,000. Please email breeder.
2005 Foals All sold out!
Ruby Gold, AHS
SOLD! Champion colt at his inspection in Atlanta, Georgia. Sired by Rubino Bellissimo out of an imported dam by Wolkenstein II/Davignon/Pikperle bloodlines. Exceptional gaits with a floating trot that doesn't seem to touch the ground, and canter is easily ground covering. Stunning chestnut with uphill build. Imprinted at birth. Introducing groundwork. A pleasure to work with. Should mature at 17+ hands. Ruby Gold could be considered a stallion prospect. Asking $12,000. Contact Debra at (615)497-6464 or click here to email.

2004 Crop All sold out!
Wonderful's Talisman (Aka Gem), Hanoverian
SOLD! An extremely flashy mare by Wonderful out of main studbook mare Amulette. Blood Bay with blaze and three stockings. Nice and compact conformation. Elastic and correct gaits (watch video) with great activity in the hind legs like her sire. Her Dam Amulette competed to 2nd level until her career change and became an outstanding broodmare consistently producing offspring with outstanding temperament and ability to perform. Amulette's sire is Aktuell. This stallion first stood in Germany, where he too was recognized as the NUMBER ONE young sire -- for two consecutive years! Click here for extensive info on her dam bloodlines and many pictures and video clips of Gem. Unfortunately Gem's owner passed away and left her and several other horses to her trainer. Forced to sell due to Rising hay price caused by drought in Texas. A great investment at an unbelievable $9,500. Approved good home only. Please call Louisa at 817-291-8499.

2003 Crop All sold out!
Won in a Million Hanoverian/Arabian filly by Wonderful X Bunny Bey SOLD!
Won in a Million is Registered and branded Oldenburg received the Premium Foal Award and was inspection Res. Champion. Also registered AHA Breeders Sweepstakes & Futurities nominated, so she is eligible for prize money offered at AHA shows. Won in a Million has the extravagant movement and superb temperament of her fabulous sire Wonderful all in a refined and elegant package. Her dam is Oldenburg MMB mare, was USDF All Breeds awards and a Multi Champion with numerous Horse of the Year awards. She received an in hand score of 87.3 and was PCSC Champion Mare with judge Victor Hugo Vidal, having the highest score in movement out of 83 horses. Her full brother Weltwunder also had an impressive score of 87. in hand His first show at age 3 1/2 yrs. he won HIgh point Dressage Champion open under judge Hilda Gurney and in hand Champion. At age 4 he has already earned Legion of Honor award all in dressage. In Dec. 2005 he won HIgh point Champion Dressage ATR, High point Champion Dressage horse and highest score of show (out of 120 rides) with a 72.24. Won in a Million at her first show in Nov 2005 was 2nd place out of 11 mares of all ages with a score of 85.00 with a 9 at walk, 9.5 trot, 9 head/neck and 9 balance and an 8.5 in manners. An incredible score for being only 2 1/2 yrs. old and her first show. Won in a Million is a perfect match for a rider who wants it all in a graceful yet powerful package. In 2006 she will be 3 yrs. and will start under saddle in spring. photo's & show records of Million, her Dam and full brother Weltwunder. Check out Weltwunder's amazing show records at USDF rated show in December, 2004. Available @ $35,000. SOLD!

2002 Foals - All sold out!

Rosinante, Hanoverian Mare
Elegant mare by Rubino Bellissimo out of AHS mare by Batido (Bolero X Wendekreis), which gives her two crosses to this valuable "B" line in addition to being a Rubinstein granddaughter. This blood guarantees super rideability. Although she has been used mostly as a broodmare, she received 90 days pro training in '07 and proved to be not only talented, but very willing and extremely safe. Ruby would be suitable for a young rider or an AA – she adores people and is extremely social towards everyone. She is a total charmer – you will fall in love with this unique gal. Her pedigree points towards dressage or lower level eventing (Ruby loved the jumping chute!). She is approved AHS and RPSI. Ruby has had two foals, including RPSI inspection-site winner "Sef," (Sempatico) in '06. Sef not only was awarded a Gold Premium grading, but his score of 8.3 ranked him in the top 20 in the nation of the 600 foals inspected that year! I would prefer Ruby go to a home where riding would be her primary job, as she seems to crave more human attention. She is modestly priced at $15,000 to insure flexibility in this matter. I will even consider payments for the perfect owner. Contact Katrina at (208)265-4837 or email recklessheartranch@verizon.net for more info and an extensive video. Click here to see a short video.
Walkure Hanoverian SOLD! Full brother available at $33,000 (see below).
Versatile mare by Wonderful out of Elite mare candidate Phamme Phatale by Pointmaker (Pik Bube). Blood Bay with narrow blaze and a stocking. Nice and compact conformation; 16+ hands. Extremely elastic and extravagant gaits (watch video) with great activity in the hind legs like her sire. Shows beautiful form over fences (see pictures). Very friendly and a quick learner. She has been under saddle one year and schooling lateral movements. Incredibly smart; already jumping 3-ft courses with flying changes after two months of hunter training. A great investment at $29,500. Half sibling competing at FEI level, and a half brother Watson was marketed at $100,000 and sold quickly!! Please call (408)803-0888 or email. (Also see Walkure's full brother below.) SOLD!

Wonderkind, Hanoverian Gelding
Coming 5-year-old gelding by Wonderful out of Elite mare candidate Phamme Phatale from Pik Pube line. 16.1+ hands, Chestnut with chrome (like Dad). Full brother to the mare Walkure above. Sweet personality and loves trails. Solid dressage training; also talented in jumping. Currently asking $33,000, price will go up with training. For more information, please contact Grace Sporthorses. 530-795-3405 or email.

1997-1999 Crops - All Sold Out!

Watson, Hanoverian SOLD!!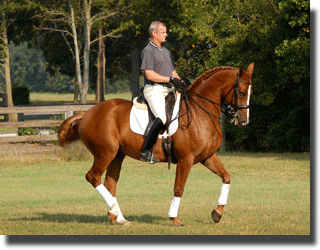 Watson is a beautiful 16.3-hand 1996 chestnut gelding by Wonderful. He is very attractive, a real eye catcher! Watson has been in professional training and is solid in his Prix St. George work. He seems to be very talented in his collection work. Watson has a great disposition and is a pleasure to ride. A great horse for an experienced amateur, Young Rider, or professional who is looking for a potential FEI prospect. Offered at $100,000. Contact: Roel Theunissen, After the Fox Farm, Phone: 770-633-6687 Fax: 706-752-1977 E-Mail: RoelGA@aol.com
Watson" the 10 year old Wonderful (Weltmeyer) son has been sold. Watson moved last week to his new home in Pawling NY. Watson's training will be taken over by Roel Theunissen's long term student Ms. Jayne Marino from "Mistover". Watson was previously owned by Mrs. Janice Saul from Carlisle,MA and has been purchased by Mrs. Carol Paterno, the owner of "Mistover". Congratulations to all of you!!

Mares

List of selected breeders that always have high quality young horses available: